Ethics and Life
While synthetic biology raises a range of general ethical, societal and political issues well-known from discussions concerning biotechnology, it also puts questions of an ethical and philosophical nature on the agenda which are distinctive of the field.
Synthetic biology aims at developing and fabricating artificial biological systems, which may serve human purposes in areas such as medicine and energy. In so far as synthetic biology researchers envision that we will be able to design new life forms in the laboratory, not found in nature, it becomes pertinent to ask a number of important and fundamental question about what life is.
Not only is the question about what life is of great theoretical interest. It must be anticipated that synthetic biology will challenge tradtitional and widespread conceptions of the nature of life and that the concept of life will play a central role in ethical debates of the purpose and potential of synthetic biology research. Thus the investigation of ethical and societal aspects of synthetic biology has the general aims:
- To identify, describe and explore the ethical issues relating to synthetic biology with a view to ensuring a sound basis for public debate and political decision making concerning synthetic biology.
- To map and contribute to the discussion of the nature of life by applying the conceptual apparatus and methods of analytical philosophy, and to consider what notion of life may be said to be invoked or assumed by the synthetic biology research program.
- To facilitate a forum where scientists, philosophers and other parties with an interest in synthetic biology can exchange, analyse and discuss views and arguments concerning ethical issues in connection with synthetic biology.
Assistant Professor Sune Hannibal Holm is a head of the ethics group within Center for Synthetic Biology. His research is centered around bioethics in the context of synthetic biology. Read more about his work here.
Click below to read an English summary of the 2011 report on synthetic biology by the Danish Council of Ethics. The whole report can be read in Danish by clicking the box at the  bottom of the page or the one on the right.
English summary of the Synthetic Biology report by the Danish Council of Ethics
---
The full Synthetic Biology report in Danish by the Danish Council of Ethics
Head of Synbio Ethics
Sune Holm,
Associate Professor
Ethical Council's Synbio Report
Click on the picture above to read an English summary of the Synthetic Biology Ethics Report conducted by the Danish Ethical Council and the Danish Board of Technology.
US Ethics Report on Synbio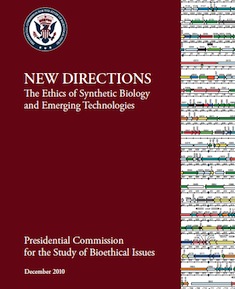 Click to read the report