The Center for Commercialization of Synthetic Biology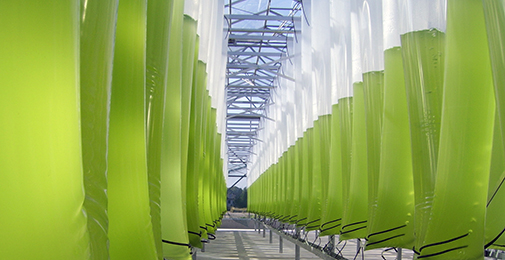 Center for Synthetic Biology is part of the new Center for Commercialization of Synthetic Biology (CC Synbio). The aim of CC Synbio is to spark a new industrial revolution in Denmark, by combining biotech and plant nursery know-how in order to create new manufacturing jobs in Denmark.

As jobs have left Denmark in great numbers in recent years, CC Synbio sees a need for recombining the primary competences of the Danish workforce in new ways. In order to create new types of manufacturing jobs in Denmark, skilled labor such as gardeners can be retrained to supervise algae farms that will act as new types of production facilities in collaboration with the world leading Danish biotech industry.
The next industrial revolutions is foreseen to arise through synthetic biology. The bourgeoning research field is expected to develop biologically based production of many of the compounds and materials that we surround ourselves with. This includes cancer medicines, jet biofuel, aroma-compounds, biological fibres, and bioplast.
These goals represent ongoing research projects in Denmark today. Under the right circumstances, the outcome of these projects can lead to many new jobs, not only within research and development, but also within adjacent industries.
The CC Synbio initiative has been announced in the Danish newspaper Børsen, in an article written by the following collaborating authors:
Peter Hildebrandt, CEO of CC Synbio
Nanna Heinz, Research Coordinator, University of Copenhagen, Science
Leif Bloch Rasmussen, Assistant Professor, Copenhagen Business School
Arne Grevsen, Chairman of The Green Group, 3F - a Danish labour union
Kristian Madsen, Chairman, Danish Plant Nurseries
Birger Lindberg Møller, Professor, University of Copenhagen, Science
Britta Thomsen, Member of the European Parliament for the Danish Social Democrats, member of the Committee for Industry, Research and Energy
Visit the CC Synbio Website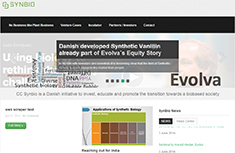 CC Synbio in the Media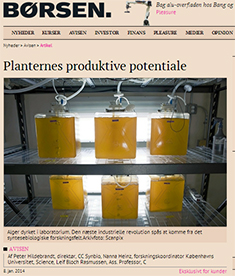 CC Synbio was offifically announced in Danish national newspaper Børsen, in January 2014
Contact
Peter Hildebrandt, CEO of CC Synbio
ph@ccsynbio.com
+45 70277024
Birger Lindberg Møller, Director of Center for Synthetic Biology, University of Copenhagen
blm@plen.ku.dk
+45 353-33352
Nanna Heinz, Center for Synthetic Biology Research Coordinator
heinz@plen.ku.dk
+45 353-38998