PhD Studies
PhD and postdoc research often spans across departments and faculties.
In the figure below, PhD and postdocs with projects and supervision in one, two or more faculties are shown and thus illustrates the number of new scientists harboring collaborative competences at Center for Synthetic Biology.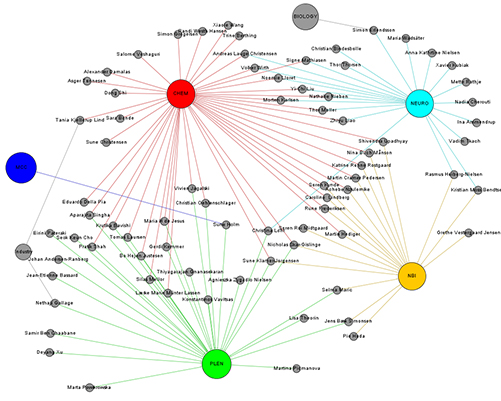 PhD students and Graduates
What kind of projects are current PhD students researching at the Center and where can this experience take you after your studies? Find out below by clicking on the researcher's name or portrait.
Selected PhD graduates
Postdoc
Terpenoid Group
Department of Plant and Environmental Sciences
Faculty of Science

Research Assistant
Department of  Fungal Discovery
Research and Development
Novozyme

Postdoc
Section for Plant Biochemistry
Department of Plant and Environmental Sciences
Faculty of Science

Nicholas Skar-Gislinge   
Postdoc
Novozymes

Selma Maric


Postdoc




Department of Medical Biochemistry and Biophysics




Karolinska Institute, Stockholm

Signe Mathiasen
Postdoc
Molecular Therapeutics Division 
Columbia University Medical Center

New York
Katrine Rønne Rostgaard
PhD student   
Nano Science Center
Department of Chemistry
Faculty of Science