30 September 2015
Synbio Yearly Meeting 2015
MEETING
Science sharing, collaborative exploration as well as the up-coming midterm evaluation of our UCPH Excellence Programme 'bioSYNergy' were among the topics at this year's annual gathering of the Center for Synthetic Biology collaborators - as well as a Game of Stones...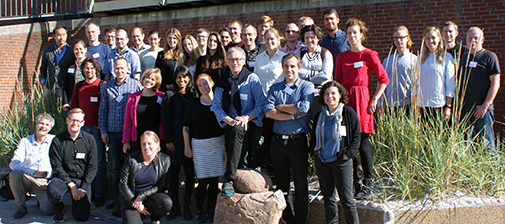 Presenting their newest results, the more than 50 participants engaged in discussing the progress of the research as well as the cross-cutting sections of the diverse group of participants.
Presentations
The two-day event had presentations in the areas: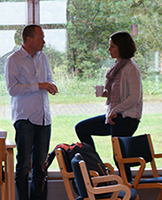 ·
Synbio and humanities focusing on 'Risk, risk      
     assessment and risk communication'
     chaired by 
Maja Horst

A special section also had focus on the learnings of how to work interdisciplinarily with examples given by Gerdi Kemmer and Nikos Hatzakis. Session chair Thomas Günther-Pomorski framed the session with an overall vies of learnings of benefits as well as areas of challenges.
See the online program 
here,
 where you will also find links to each presenter if you would like to learn more about them. 

SpaceMoss – making the luggage light to Mars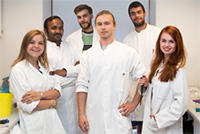 Our iGEM team of 2015 – 
Team Spacemoss
– was also on the agenda. Two of the team members visited the yearly meeting and presented their project which focuses on making moss a part of future space exploration. In particular, the team has focused on making a freeze resistant strain of moss that could potentially be brought with astronauts to Mars producing crucial medicines.
Game of Stones


As has become somewhat of a tradition, the yearly meeting also invited the participants to engage in collaborative exercises. This year, the main theme was 'Game of Stones' which invited the participants to, in groups, discuss and describe their particular 'building block', with which they contibute to the Center.
The future of impact
Sparking good discussions, invited speaker 
David Budtz Pedersen, 
co-director of the Center for Humanomics at UCPH gave the participants a view into the fast developing world of impact factors as well as emerging criteria of science measurement.