26 June 2015
In the media: Weekendavisen on the Secrets of the Chaste Tree
Welcome to Allison's World
Featured in today's Weekendavisen is a close-up visit to the scientific world of Allison Maree Heskes and her work on the multitude of bioactive compounds produced by the Chaste Tree – among them the dopaminergic diterpenoids.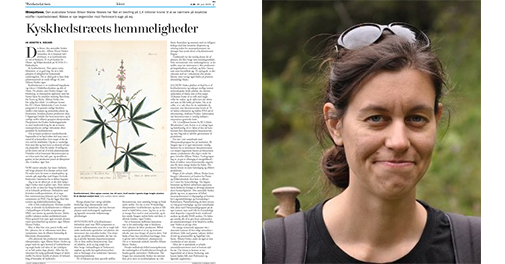 Danish newspaper Weekendavisen invites readers to take a closer look at the medicinal plant the Chaste Tree (Vitex agnus-castus) and the scientific work done on its many bioactive compounds by newly arrived Marie-Curie Postdoc Allison Maree Heskes at Center for Synbio.
The medicinal plant has been used for centuries as remedy for a number of disorders and ailments – among the more curious ones it was thought to dampen sex drive and used by monks. Today it has been clinically proven to have an effect on physical symptoms of PMS as well as swollenness and pain.
However, it is especially the dopaminergic diterpenoids produced by the plant that Allison Maree Heskes is interested in. These compounds hold potentials in the future treatment of Parkinson and other dopamine deficient disorders.
More than 50 different diterpenoids are produced by the Chaste Tree, many of which have never been tested for activity.
Allison Maree Heskes uses advanced bio-imaging mass spectrometry methods as well as structural analyses to map and analyze the activity levels of the compounds. The goal is to map the biosynthetic pathway and transfer it to yeast strains for dedicated production. Eventually this might lead to novel treatments of e.g. Parkinson.
She is currently funded by a Marie-Sklodowska Curie fellowship.
Read more about her science here.