14 March 2013
Re-engineered Photosynthesis Receives Attention
Recently reported advances by Center for Synthetic Biology's Lightdriven Biosynthesis workgroup was featured by numerous leading science news websites and popular blogs.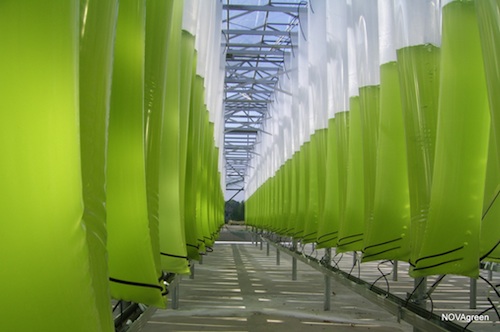 The research project aims at growing re-engineered photosynthetic cell factories in contained systems such as these. The products can be e.g. cancer medicine, bioplastics or fuels.
This pioneering synthetic biology research shows how photosynthetic cells can function as tiny factories producing e.g. medicines, fabrics or fuels from solar energy. The development of the project faces a bright future, as many international research and industry partners have devoted themselves to help developing the technology.
The research of Agnieszka Zygadlo Nielsen et al. was published on the frontpage of the journal ACS Synthetic Biology, and it has received a lot of attention with over 30 science and innovation news sites worldwide reporting on the research advancement. Here's a selection:
THE OPEN INNOVATION SITE _CONNECT
CHEMISTRY2011.ORG
EUREKALERT.ORG
MEDINDIA.NET
PHYS.ORG
WORLDOFCHEMICALS.COM
GOSOLARBLOG.COM
SYNBIOLOGY.CO.UK
SCIENCEDAILY.COM
BIOFUELDAILY.COM
TECHNOLOGY.ORG
NEWS-MEDICAL.NET
BRIGHTSURF.COM
The social media was also activated, here are two examples of blogs and tweets about the research:
Read the press release in ACS:
http://portal.acs.org/portal/acs/corg/content?_nfpb=true&_pageLabel=PP_ARTICLEMAIN&node_id=223&content_id=CNBP_032314&use_sec=true&sec_url_var=region1&__uuid=0babbfdc-bfba-4e46-b6c0-b787076b068f
Read more about Agnieszka Zygadlo Nielsen's research here:
https://synbio.ku.dk/research/researcher_profiles/agnieszka_zygaldo_nielsen/
Read more about Poul Erik Jensen's research here:
https://synbio.ku.dk/research/researcher_profiles/poul_erik_jensen/