4 April 2012
Danish media reports on Sorghum breakthrough
Berlingske, Danish radio news (DR) and Local TV-station TV2 Lorry report on the new Sorghum breakthroughs in Birger Lindberg Møller's group.
Professor Birger Lindberg Møller and his collegues from Department of Plant Biology and Biotechnology have in collaboration with Australian researchers and the company Pacific Seeds developed a new type of Sorghum, which (in contrast to normal Sorghum) does not become toxic after long exposure to drought.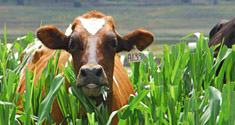 "It is a serious problem for farmers in a large
   part of the world who grow Sorghum as
   feedstock. When they have the most need 
   for sorghum, they cannot use it" says
   Professor of Plant Biochemistry at
   University of Copenhagen, Birger Lindberg  
   Møller.
Read the full article here (In Danish)
Watch a short version of the TV2 Lorry News report using the following link: http://www.lorry.dk/arkiv/2012/4/4?video_id=66064