11 August 2014
Synbio Summer School off to flying start
Synbio Summer School
Today an international team of Master and PhD-students embark on an exciting five day summer course dedicated to plant synthetic biology at Copenhagen Plant Science Center.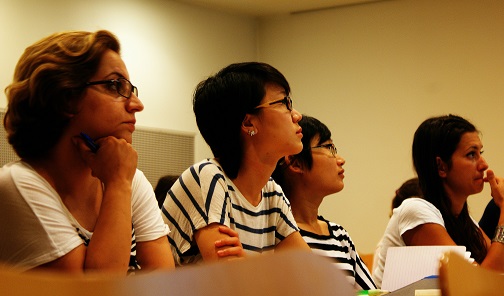 The students will be joined by leading American, German and Danish scientists and taken on a cross-disciplinary journey of highly advanced basic science through to ethical, regulation and commercialization aspects of synthetic biology. The dedicated students will spend the week engaged in assignments, presentations, field excursions and dialogue across fields.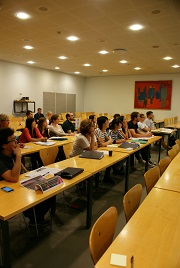 More specifically; the course will cover basic biology and engineering of photosynthetic organisms, covering chloroplasts and nuclear genomes and photosynthetic diversity as well as issues that photosynthetic bio-manufacturing will need to address in the future. It will also cover the current status of synthetic biology in cyanobacteria, algae and plants to date and future prospects. Real examples from commercialization of algae bio-products will be given.
See full program here
Teachers:
Prof. Stephen Mayfield, San Diego Center for Algae Biotechnology
Prof. Andreas Weber, Cluster of Excellence on Plant Sciences, Heinrich Heine University Düsseldorf
Associate prof. Sune Holm, Dept. of Media, Cognition and Communication, University of Copenhagen
Postdoc Ana Nordberg, Centre for Information and Innovation Law, University of Copenhagen
Prof. Marianne Ellegaard, Section for Plant Glycobiology, University of Copenhagen
Associate prof. Yumiko Sakuragi, Section for Molecular Plant Biology, University of Copenhagen
Prof. Dario Leister, Copenhagen Plant Science Centre, University of Copenhagen
Prof. Poul Erik Jensen, bioSYNergy/Center for Synthetic Biology and Copenhagen Plant Science Center, University of Copenhagen
The summer course is organized by plant and synthetic biology scientists from the new Copenhagen Plant Science Center and Center for Synthetic Biology at University of Copenhagen.
For more information contact coordinator of Copenhagen Plant Science Center, Lene Rasmussen