14 March 2013
Symposium Speakers and Panelists Settled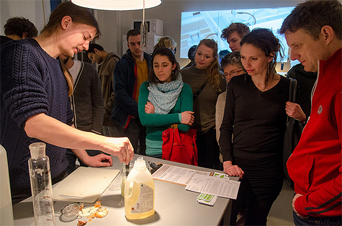 The speakers and panelists for the symposium under the theme "Synthetic biology and biohacking – unlikely bedfellows or pioneering matchmaking?"  have been confirmed. Synthetic biologists, biohackers, bioethicists, and sociologists make up the diverse expertises present. 
What does frontline university research with several million kroner budgets have to do with a group of Do-It-Yourself science aficionados building labs in garages and basements on shoestring budgets? Find some answers at the "Doing and Debating Synthetic Biology" symposium at 7.30 pm, March 21st at Medical Museion in Copenhagen. 
The Panelists are:
- Sarah R. Davies, postdoc, University of Copenhagen (UCPH). Read about her research here: http://medm.us/13XyJ5h
- Birger Lindberg Møller, Professor, Director of Center for Synthetic Biology, UCPH, Read about his research here: synbio.ku.dk/blm, http://medm.us/Z577WN

- Rüdiger Trojok, biohacker, Read more about his research here: OpenBioProjects.net
- Sune H. Holm, Assistant Professor of bioethics, Philosophy, UCPH, Read more about his work here: http://medm.us/ZK4uZC
Additional speakers include Martin Malthe Borch, biotech engineer, interaction designer, and co-founder of Scandinavia's first DIYbio space, BiologiGaragen.org, and Karin Tybjerg and Louise Whiteley, directors of Medical Museion's biohacking project.
The symposium will run from 7.30 to 10 pm, and the lab installation will be open from 6.30. Refreshments will be provided, and entrance is free.
The event accompanies a laboratory installation, made in collaboration between the EU FP7 Studiolab Project, Medical Museion, the Center for Synthetic Biology at the University of Copenhagen, and Copenhagen hackerspaces Labitat and BiologiGaragen.
Read more about the laboratory installation and this event here: http://medm.us/biohacking