7 January 2013
Symposium on Synbio and Biohacking at Museion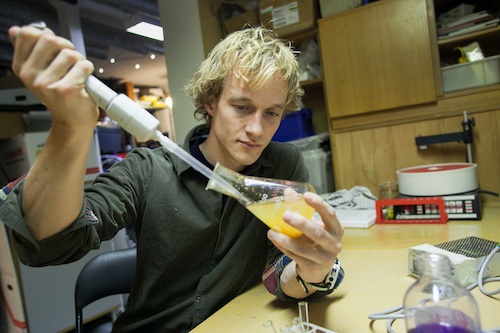 The promises of synthetic biology and biohacking are debated at a public symposium co-organized by Center for Synthetic biology at Medical Museion on March 21st. The debate will be led by a panel of Do It Yourself biologists, ethicists, synthetic biology researchers and sociologists among others. Tickets will be available shortly. 
The symposium is concluding a series of workshops on DIYbiology and an exhibition on the DIYbio movement at Medical Museion, the medical history museum of Copenhagen. 
From Center for Synthetic Biology, Professor Birger Lindberg Møller and bioethicist Sune Holm will participate as members of the debate panel together with biotech engineer Malthe Borch (picture) from the local DIYbio lab and hackerspace in Copenhagen BiologiGaragen/Labitat.  
Read more about the symposium here:
http://www.museion.ku.dk/engineering-life-doing-and-debating-synthetic-biology/

Read about the workshops and the exhibition here: 
http://www.museion.ku.dk/diy-biology-full/
http://www.museion.ku.dk/hackers-full-description/
http://www.museion.ku.dk/opening-of-biohacking-full-description/
Visit the homepages of BiologiGaragen and Labitat here: 
http://www.biologigaragen.org/
https://labitat.dk/