7 December 2012
Center of Synthetic Biology Hosts Inaugural Master's Course in Synthetic Biology - February 2013
From February 2013, students with backgrounds in subjects as varied as in biology, biochemistry, biotechnology, chemistry, physics and medical science will begin University of Copenhagen's first Master level course in synthetic biology.
In keeping with the Center's grounding in and focus on interdisciplinarity, the course will be taught by lecturers from across the Center's academic spectrum. Lectures will therefore give an introduction to research topics as diverse as lipid membrane nanotechnology, light-driven synthesis, applications of silver nano-cluster technology and Intact Mammalian Cell Function on Semiconductor, amongst others.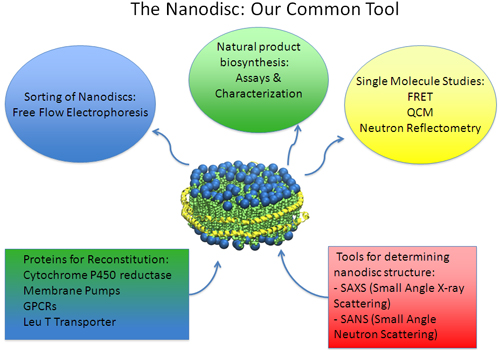 Since the nano-disc is used by many of Center for Synthetic Biology's researchers, it will be used to illustrate the coherance of the Center throughout the course.
Course description
The course is interdisciplinary and will be guided by the strong scientific groups of the UNIK center for Synthetic Biology of Copenhagen University. Synthetic biology is an emerging technology that applies biological science as a basis for new developments within medicine, pharmaceutics, plant biology and materials sciences using combined concepts developed in biotechnology and nano-science. Foundational tools to meet this challenge include: Ready access to off-the-shelf standardized biological parts and devices as well as advanced tools that enable the integration of basic biological and synthetic units into multi component systems.
Further, a variety of modern measuring techniques and computational tools are applied in the design and tests of new systems. The richness and versatility of biology is the basis for the great potential of synthetic biology, and it is foreseen that several of the world's most pressing challenges may be addressed by these methods.

The course will focus on topics in the frontier of synthetic biology. This will be guided by updated literatures. Examples of selected topics are:

1. Lipid membrane nanotechnology for synthetic biology
2. Light-driven synthesis: Charging the future
3. Synthesis of terpene compounds and manipulation
4. Applications of silver nano-cluster technology
5. Single molecule fluorescence microscopy and spectroscopy
6. Biophysical analysis for synthetic biology using scattering methods (light, X-ray) and thermal methods (DSC, ITC)
7. Intact Mammalian Cell Function on Semiconductor  
All students will undertake a 1 week practical research project, led by an expert in the chosen area. 
The official registration deadline has passed, but for further information, please contact the course convenor Seong Wook Yang, swang@life.ku.dk