20 March 2013
Research Europe reports on Synbio-Biohacker Collaboration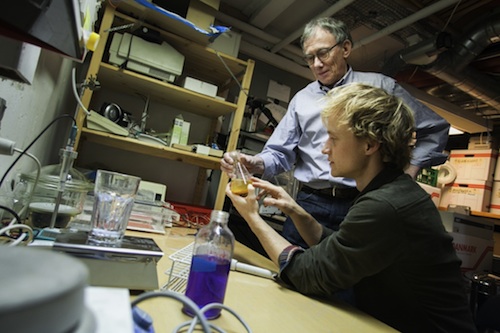 Co-founder of BiologiGaragen, Martln Malthe Borch and Professor Birger Lindberg Møller in BiologiGaragen.  
Leading European news source on research and policy reports on the collaboration between University of Copenhagen's Center for Synthetic Biology and the Do-It-Yourself biotech enthusiasts, or biohackers in BiologiGaragen. 
On its website, Research Europe reported on the Director of Center for Synthetic Biology Professor Birger Lindberg Møller entering the role of advisor for Labitat, the local hackerspace in Copenhagen and it's biology sub-group BiologiGaragen. 
Professor Møller hopes the biohackers will play a role in giving the general insights into the nature of research and through that a better understanding of the technological challenges that we frequently face. 
"The entrepreneurial spirit in the Do-It-Yourself movement is amazing. These pioneers are inspiring to witness for university researchers and research-based companies alike. In return, we can help them with our solid experience. So this new collaboration is beneficial for everybody" he says.
BiologiGaragen is a part of a new global movement, in which bio-innovators and do-it-yourself biotech people are gathering in basements and garages to share knowledge and invent cheap bio-based products. So far, the group has developed a smartphone app that monitors the growth of cell cultures. 
The collaboration between the professor and the biohackers was also featured in the written media:
- Weekendavisen printed a feature story by Lone Frank.
- Research Europe wrote another article about Novozymes' and the University's interest in the biohackers
- Information featured a story of the collaboration
- Ingeniøren followed up the story with a short interview with biohacker Martin Malthe Borch: "Novozymes sponserer danske biohackere". 

Visit the hompage of Labitat here: https://labitat.dk/
Visit the homepage of BiologiGaragen here: http://biologigaragen.org/
Visit the homepage of Novozymes here: http://novozymes.com/
Read more about Birger Lindberg Møller's research here: https://synbio.ku.dk/blm