14 March 2013
Research Europe Reports on Synbio Support for Biohackers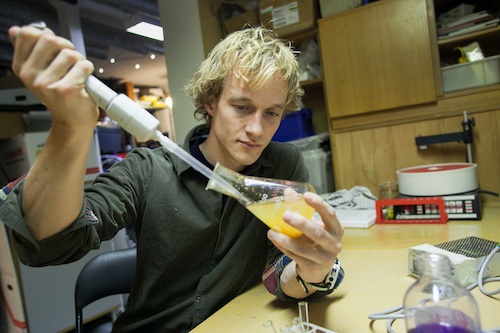 The leading European news source for researchers and policy makers Research Europe reported on Danish biotech firm Novozymes' generous donation to the biohackerspace, which came about with the help of a collaboration between the biohackerspace 'BiologiGaragen' and the Center for Synthetic Biology.


BiologiGaragen is a part of a new global movement, in which bio-innovators and do-it-yourself biotech people are gathering in basements and garages to share knowledge and invent. It makes up the biology department of the larger, interdisciplinary hackerspace Labitat, currently situated on Frederiksberg, Copenhagen.
Research Europe is the leading independent source of news, analysis and funding opportunities for researchers and policymakers in Europe, with a readership of about 20.000. The website's interest in the story is a testiment to how this collaboration might be an early example of how more researchers might follow the example of the Director of Center for Synthetic Biology Professor Birger Lindberg Møller, and get in contact with these open science and open innovation environments.
Author of the article Catie Lichten notes that the interest for the Do-It-Yourself Biotech, or biohacker environments is also starting to show in the industry, as Danish biotech company Novozymes donated 100 000 DKK (13 000 €) to Labitat/BiologiGaragen, following Center for Synthetic Biology's support.
Visit the hompage of Labitat here: https://labitat.dk/
Visit the homepage of BiologiGaragen here: http://biologigaragen.org/
The collaboration between the professor and the biohackers was also reported on in the printed media:
- Weekendavisen printed a two-page feature story by Lone Frank.
- the story of the collaboration was featured in Information
- Ingeniøren followed up the story with a short interview with biohacker Martin Malthe Borch: "Novozymes sponserer danske biohackere". Read the article here.

Danish national TV-channel DR1 visited Labitat and interviewed co-founder of BiologiGaragen, Martin Malthe Borch. Read more here