15 October 2014
The Third Paradise: Algae art installation
ART meets science
Italian painter, action and object artist, and art theorist Michelangelo Pistoletto is in Copenhagen this week with his installation The Third Paradise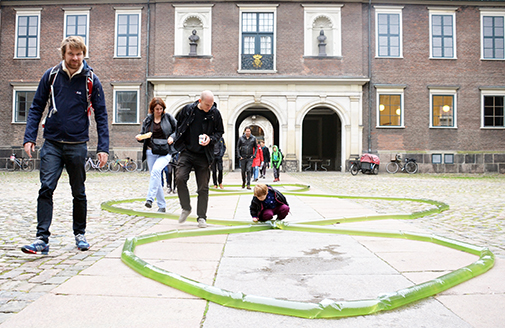 The exhibition of Pistoletto's Third Paradise in Copenhagen on October 14th was opened by an event in the courtyard of Charlottenborg with the Third Paradise symbol - The New Sign of Infinity - shaped in algae. The Center for Synthetic Biology was invited to shape this sign and join a panel discussion about the nature of synthetic biology.
Event

The Third Paradise event took place in the courtyard of Charlottenborg exposing the Pistoletto symbol shaped by approx. 50 meter plastic tube filled with more than 200 liters of the microalgae Synechococcus sp. in suspension. Alge-installationen blev til i samarbejde med Agrotech og Plant Power
Den Grønne Friskole had an event in the courtyard too where children could cut out the symbol in hemp and sow Cress on it. The symbol will grow and be alive in many homes the coming days.
Artist talk
Afterwards, there was an Artist Talk featuring Pistoletto, professor Pierre Guillet de Monthoux and postdocs Johan Andersen-Ranberg and Tomas Laursen in the panel. The talk took place in the great hall at The Royal Danish Academy of Fine Arts.
Michelangelo Pistoletto was very satisfied with the new dimension added to his symbol; the way it was becoming alive by having living organisms floating through. The symbol of the Third Paradise constitutes of three circles, with the third paradise in the middle circle symbolising the balance between good versus evil, nature versus technology, etc. The bringing together of the opposites. In the discussion parallelles were drawn between the academization of art and breaking free of concepts to the community based approach from Center for Synthetic Biology.

The Third Paradise - a manifesto
The basic idea of the Third Paradise is the overcoming of the current worldwide existing conflict between the two polarities of nature and artifice. The Third Paradise is symbolically represented by a reconfiguration of the mathematical infinity sign. The Third Paradise is the fusion between the first and second paradise. The first is the paradise in which humans were fully integrated into nature. The second is the artificial paradise, developed by humans through a process that has now reached globalizing proportions. This paradise is made of artificial needs, artificial products, artificial comforts, artificial pleasures, and every other form of artifice. Humankind has formed a real artificial world that gives rise, in an exponential manner and in parallel with its beneficial effects, to irreversible processes of decline on a planetary scale. The danger of a tragic collision between the natural sphere and artificial has been announced in every way.
The Third Paradise is to lead artifice—that is, science, technology, art, culture and political life—back to the Earth, while engaging in the reestablishment of common principles and ethical behavior, for on these the actual success of the project depends.
World wide exhibition
The Third Paradise installation and symbol, the New Sigh of Infinity, has been showcased many other places in the world. Read more about Pistolettos work at this link: http://www.pistoletto.it/eng/crono26.htm