15 May 2013
Synbio Scientists host PhD Workshop entitled: "Geometry and Topology of Liquid Crystals and Related Ordered Materials"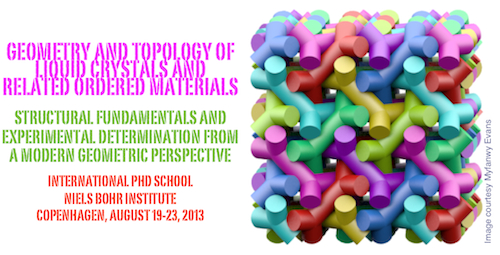 Biophysicists and participants in the Center for Synthetic Biology, Jacob Kirkensgaard and Kell Mortensen are among the organizers of the Niels Bohr Institute International PhD School on 'Geometry and topology of liquid crystals and related ordered materials' which will be held August 19- 23rd 2013 at the Niels Bohr Institute at University of Copenhagen.
For more information, please contact Jacob Kirkensgaard at jjkk@nbi.ku.dk.
DEADLINE for applications are August 1st 2013.
This workshop is sponsored by the Faculty of Science at the University of Copenhagen. There is no fee for the participants, but attendance will be limited to 24 students to be selected from the applications received.
Confirmed Lecturers:
Stephen Hyde (Australian National University)
Gerd Schröder-Turk (Erlangen University)
Stuart Ramsden (Australian National University)
Jacob Kirkensgaard (University of Copenhagen)
Organizers:
Jacob Kirkensgaard (Niels Bohr Institute, University of Copenhagen - jjkk@nbi.ku.dk)
Stephen Hyde (Australian National University)
Kell Mortensen (Niels Bohr Institute, University of Copenhagen)