05 January 2017
Nanomedicine patents in Europe
New book
Synbio-law scholar Ana Norberg publishes a new book on patentability of medical methods using nanomedicine innovation as example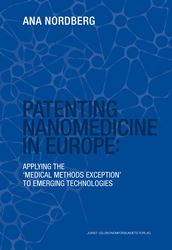 The book debates restrictions on the patentability of medical methods in European Patent Law. The main question addressed is whether it is viable and advisable the reinterpretation, reformulation or replacement of Article 53 (c) EPC – a provision restricting the patenting of medical methods. The subject is approached by reference to emerging technologies, and using nanomedicine innovation as example and point of departure. Nanotechnology inventions are a good example of how in recent years, emerging technologies have been challenging the patent system and exposing the need for re-thinking the legal framework.
The book is a revised and updated version of the Ana Nordberg's PhD Thesis (defended in March 2014). Ana Nordberg is currently Post-doctoral researcher at the Faculty of Law and member of the BioSYNergy Research Committee.
Ana Nordberg is a former legal practitioner and since 2010 a researcher at the Centre for Information and Innovation Law, Faculty of Law, University of Copenhagen. She teaches and is co-responsible for the Master Course 'EU Intellectual Property Law and Policy from an international perspective'; and also a frequent guest lecturer and presenter at international conferences. Her work involves a broad spectrum of legal topics, including intellectual property rights, open innovation, competition law, health law, and technology regulation. In particular, focusing on patent Law and legal and regulatory responses to science, technology and emerging innovation related business and social phenomena (e.g. Biotechnology; Nanotechnology, Synthetic biology; Gene-editing; Human enhancement; 3D printing; Artificial intelligence; Machine learning, Internet of Things and Data mining).
Patenting Nanomedicine in Europe: Applying the 'medical methods exception' to emerging technologies by Ana Nordberg, DJØF Publishing, 2017