05 October 2016
Master project opportunity at the Centre for Synthetic Biology, Plant Biochemistry
Master project opportunity:
Sustainable production of anti-cancer drug, Taxol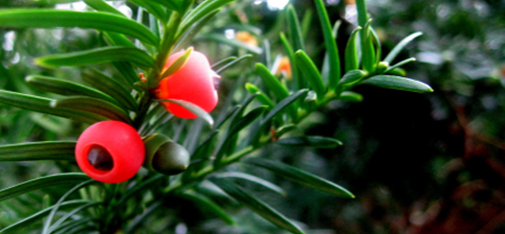 Overall goal of our project is to establish a sustainable production system for Taxol production. The Project is aiming to elucidate the unknown steps of the pathway as well as to reveals the exact sites biosynthesis of different intermediates take places in the plant. Furthermore we are testing various bio engineering steps to stabilize and increase the production of Taxol intermediates. Project is on -going and has several well established collaboration partners.
Back ground: Throughout history diterponoid producing plants and their extracts serve as traditional medicine, fragrances, flavors and biomaterials. Today these bioactive compounds have industrial applications worth several billion dollars annually. One of the major commercial diterpenoids includes the anti-cancer drug Taxol (pecilitaxol), which is employed in the treatment of ovarian cancer, breast cancer, pancreatic cancer and a number of other carcinomas.
Taxol was first discovered as a natural product in the bark of Pacific Yew trees (Taxus brevifolia), where it is synthesised in the living phloem tissue. Indeed, for many years the main source of the drug was the bark of Yew trees, which was harvested in very large amounts, or Yew needles, which make a precursor of the drug from which Taxol can be derived. Yew trees are very vulnerable to attack by fungal pathogens, because their bark can crack easily, especially at places where new branches emerge. Taxol is produced by Yew trees as a plant immunity compound and deployed against a wide range of wood-degrading fungi, which would otherwise be able to colonise bark tissue.
Taxol has a market value in excess of $2 billion annually and is predominantly made by a proprietary plant cell fermentation method rather than by chemical synthesis. Access and availability of taxol from other sources is limited by low abundance in nature, lack of cultivation or geographic access, and risk of overharvesting of undomesticated plant species. It readily became evident that bark extraction could not economically support large-scale production attempts. Furthermore, the environmental impact for such a strategy was unacceptable. To treat one patient effectively, the bark of two to three yew trees was required with each fully grown tree only able to provide 0.5 g of Taxol. Considering that each extraction process was destructive to the tree source and mature yews required 200 years to develop fully, this form of direct plant isolation was clearly inefficient and non-sustainable. However, a compromise was reached regarding direct yew tree Taxol isolation. Namely, a key precursor from the Taxol pathway, Baccatin III was readily extracted from yew tree needles in a manner that was non-damaging to the overall health of the tree. Although this intermediate did not provide the same therapeutic value of Taxol, the late-stage precursor could be readily converted to the full Taxol molecule through separate synthetic chemistry transformations.
Main Supervisor: Nethaji Gallage Co-supervisors: Birger Lindberg Møller and Thies Gülck