7 November 2016
CosmoCrops gets NASA's attention
COMPETITIONS:
CosmoCrops team wins a bronze medal in the World Championship in Synthetic Biology for students and is invited by NASA to join them at Ames Research Center, US.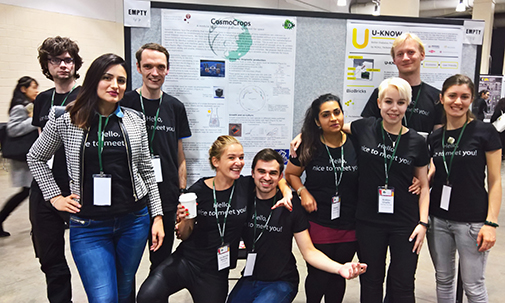 Last week CosmoCrops joined more than 3.000 students from all over the world at MIT in Boston at the iGEM Giant Jamboree. With them they brought their newly developed bacteria-based 3D printing space travel kit – and left behind many sleepless nights.
"The jamboree exceeded all our expectations! Amazing presentations, awesome projects and great meet-ups with students like us from all over the globe – and it all felt like we were one big family", says Cosmo- member and Biology-Biotechnology Master student Joachim Steen Larsen.
The team took home a bronze medal for their efforts. This will join their Nordic iGEM winner achievement.
NASA: Come join us
At the Jamboree, CosmoCrops met with Astrobiologist Lynn Rothschild from NASA. She invited them to continue their work in her laboratory at NASA Ames Research Center. For CosmoCrops, this is a dream come true: "We really want to continue our project - and to be able to do it in collaboration with Lynn Rothschilds and NASA is a once in a lifetime opportunity" says Joachim Steen Larsen.
Proud Supervisors of CosmoCrops
The team has also impressed their supervisors with their efforts and dedication. Co-Supervisor Professor Poul Erik Jensen Department of Plant and Environmental Sciences, says:
"They did truly interdisciplinary work – which is hard!  - and also foundational work that we will probably use in the future in my group. Their outreach, fundraising, and public engagement activities were impressive. I am very proud of their team work and especially that they made their own independent approach."
Fellow supervisor Associate Professor Sotirios Kampranis, Department of Plant and Environmental Sciences, is looking forward to see where the project will take them:
"The team has been a true joy to supervise. They have real talent, but were also motivated, hard-working and easy to communicate with. They did superbly in the laboratory and their outreach activities were outstanding. I wouldn't be surprised if future space missions use technology similar to that proposed by the team.
Next up for CosmoCrops
The team is now returning to Copenhagen and their 'normal' life. However, soon their status as Nordic iGEM winners will need attention as they are hosts of Nordic iGEM 2017. In between, NASA is sure to be on their mind:
"Imagine a Mars-mission with our contribution. I know that's a wild dream scenario - but what iGEM has taught us is that it is okay to dream big - sometimes it will come true!," says Joachim Steen Larsen.
Educating next generation of synthetic biologists
The iGEM competition is an integral and important part of the global synthetic biology community.  Each year the number of participating teams is growing. This year more than 300 teams from all over the world participated in the iGEM (International Genetically Engineered Machine) competition. Very soon, Center for Synthetic Biology will start recruiting for next year's team.