01 July 2014
Center for Synthetic Biology at ESOF2014
Synthetic biology was well-represented at last week's successful Euroscience Open Forum (ESOF2014) conference in Copenhagen. Participating in both the official conference as well as the surrounding Science in the City Festival, Center for Synthetic Biology engaged in scientific sessions, explored installation-based public dialogue and learning potentials of Science Moves – as well as discussed open innovation and IPR at the KopenLab Hackerthon.
The biannual conference series Euroscience Open Forum (www.esof20014.org) took place in Copenhagen last week with 4.500 conference delegates and 38.000 people visiting the Science in the City Festival.

The Anatomy of Synthetic Biology
Center for Synthetic Biology were chosen to head on the 65 official conference sessions. Focus of the session was the dynamic dialogue that takes place between all stakeholders influencing the development of synthetic biology both as a scientific field and as a technology that will be implemented in society.

Our distinguished guests and participants in the discussion were:
Jørgen Hansen, Head of Research at Evolva
Andy Boyce, Strategy and Policy Manager at the British Research Council BBSRC
Professor Birger Lindberg Møller, Head of Center for Synthetic Biology, UCPH
and biotech-entrepreneur and co-founder of the biohackerspace BioCurious in California, US, Tito Jankowski
Participants as well as the international community were invited to partake in the dialogue via Twitter.
Breaking and Entering - Let's talk!
At the Science in the City festival guests could visit the physical and digital installation 'Breaking and Entering – Explore how Science and Society Relate' in the University of Copenhagen area. The installation is a new approach to spark constructive dialogue on the social responsibility of science.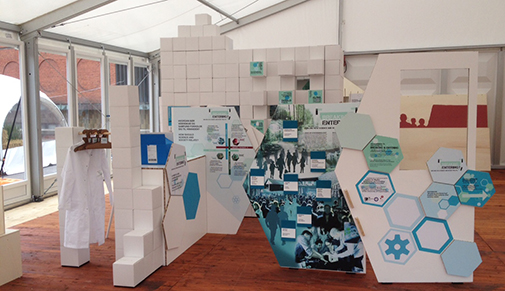 Lead by Head of Department of Media, Cognition and Communication Maja Horst, a large group of researchers from communication, design, IT, synthetic biology, philosophy, social sciences and organisation have worked together to create the installation which is also part of the bioSYNergy project at Center for Synthetic Biology.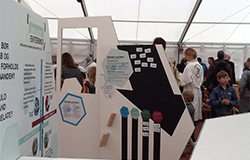 Scientists have followed and studied the development and interactions of the visitors throughout the festival. The knowledge gained will now be analyzed an incorporated into new and continuing projects focused on Responsible Research and Innovation and Synthetic Biology.
See more here :(https://www.facebook.com/scientificsocialresponsibility?fref=ts)
(http://breaking-entering.dk/)
Sleeping patents – sleeping beauty?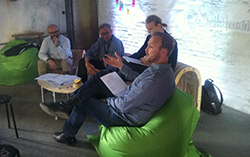 The future of open innovation and IPR in an area such as synthetic biology was discussed at 'science drops' at the KopenLab hackerfestival taking place on the festival grounds. Headed by PhD student and part of the bioSYNergy project Jakob Wested, the session focused on and engaged the participants in discussing how patents interact with knowledge development and business models – as well as how open innovation approaches and patent pooling can be integrated.
See article in the University Post on biohacking here.
Move your body to the tune of plant
Textbooks are only one way of learning how science works. 'Becoming' an enzyme in a plant cell and acting the peculiar drama that takes place inside a plant cell each time it creates new building blocks for growth or defense is something entirely different. Together with Di Ponti and Jesper Bruun from Department of Science Education at UCPH, we explored how synthetic biology and plant science can be taught to both high school children as well as kids in 'Science Moves' workshops at the Science in the City festival.
A group of scientists have documented the workshops in sound, photo and film. This will now be part of larger studies of the impact of integrating the body in science education.