18 October 2016
iGEM in Politiken: We will help Elon Musk to die on Mars
IGEM IN THE NEWS:
Director of Tesla and SpaceX Elon Musk announced that within ten years he will send people to Mars. He himself would like to die on Mars (but not during the landing) and student team CosmoCrops from the Center for Synthetic Biology is ready to help him - to fulfill the dream of colonization of the neighboring planet.
Our iGEM team this year – CosmoCrops – is featured in a prominent article in Politiken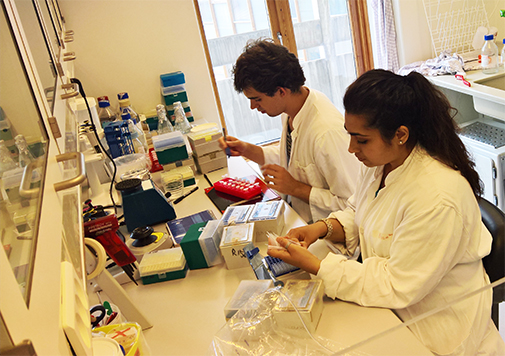 Below you will find a summary of the article
CosmoCrops are designing a biological system to make people self-sufficient when they reach Mars, so the astronauts do not have to overload the rocket with all the necessities. People would only have to bring two bacterial strains and a 3D printer, then produce everything from food and medicine to tools and housing. More about their work you could find here.
The research team consists of students with different scientific backgrounds such as mathematics, physics, computer science and nanotechnology. Young people can complement each other professionally in the best interdisciplinary manner.
CosmoCrops participate in an international competition in synthetic biology, iGEM, where they represent Denmark along with two other teams. The students are making their last preparations for the final, which takes place in Boston, USA, on the 27th-31st of October.
Another team, from the University of Southern Denmark, is working on the project with silk from spiders to make a sustainable patch that contains antibiotics. They aim to take up the fight against multi-resistant bacteria and to cure infections in wounds quickly.
The third team, from DTU, is using the revolutionary DNA technology CRISPR, so genetically modified sponge could produce environmentally friendly chemicals and fuels from waste. That can become a way to avoid using edible crops such as corn, wheat and sugarcane in the production of biofuels, which instead can be used to feed people throughout the world.
Earlier, in Stockholm, CosmoCrops project was chosen the best among other Nordic teams, which are participating in iGEM.  Now everyone is waiting for the iGEM final in the US next week. And, of course, for trips to Mars.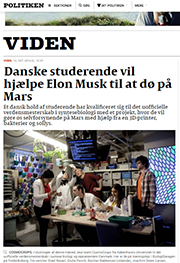 Read the full article here
You can follow the team here: Facebook and Twitter
More information could be found on the Wiki of CosmoCrops iGEM Team
Movie about iGEM in Politiken