05 November 2013
DR: Synbio Industry Goes Red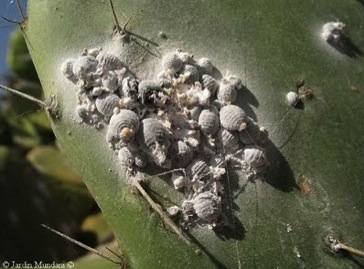 The Danish biotech company Chr Hansen is collaborating with researchers affiliated with Center for Synthetic Biology to find a sustainable way to produce the natural red colorant, carminic acid, which is currently extracted from the scale insects living in Latin America. The Danish national broadcasting corporation, DR, is reporting on the collaboration.

Carminic acid is the most widely used natural red colorant because of its stability. Globally it is frequently used in foods, drinks, cosmetics and textiles worldwide. Apart from scientists at Department of Plant and Environmental Sciences at University of Copenhagen and biotech company Chr Hansen, the Technical University of Denmark DTU is also participating in the project.

"We are looking to find a way to produce carminic acid in the same way as the cochineal scale insect, but in a microbial cell factory, e.g. in a fermentation tank." says Kim Binderup, Director of Research and Acquisition in the colorant division of Chr Hansen.

It is an ambitious project, which so far has uncovered 50 genes that are important for carminic acid production in the insect's metabolism. Kim Binderup estimates another 5-10 years before the microbial product will be on the market.

"Although this is a formidable undertaking, I am confident that our expertise in discovering nature's way to produce valuable compounds, combined with DTU's microbial expertise and Chr Hansen's industrial know-how makes up an optimal combination of skills, that will help us reach our goal", postdoc Rubini Kannangara adds.
READ THE COMPLETE STORY IN DANISH HERE
Rubini Kannangara is leading the project at University of Copenhagen.
Read about her research here