1 July 2014
Tips and tricks from the Career Workshop
Get the main points from the career workshop we had on June 24th. With master degrees in both plant biology and career guidance Sarah Blackford took us briefly through some career theory, touching upon knowledge economy and showed us examples of very different career tracks. The workshop was followed by lunch and individual guidance.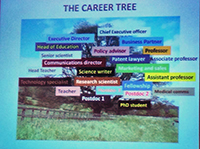 We all know the career path in academia, but what kind of job opportunities are covered by the industry? Sarah's advice was to go to career fairs, track down the small/medium industries not present at fairs, and check out people on LinkedIn to see how they got to where they are now. Find out what skills you are missing in order to reach your goals and try to fill them.
Use: LinkedIn, Twitter, Researchgate and recruitment agencies! Follow hashtag for meetings and conferences and other events before, during and after.
Focus on job search based on you personality type and interests. Specific or generic work.
Link to Sarah Blackford's blog: http://www.biosciencecareers.org/
Find Sarah on Twitter @BiosciCareer and LinkedIn