12 December 2014
Grand Opportunities explored at Synbio Conference at UC Berkeley
synbio conference
With an exceptional line of speakers, the synthetic biology conference 'Optimal production of High-Value Compounds – Dialogue between Fields' took place at UC Berkeley at the Citris Center in November. Here are some of the highlights of the successful three-day conference
Collaboration and knowledge sharing across scientific fields and between science and industry were in focus at the 3-day conference with the aim of optimizing and speeding up societal implementation.
Bringing competing fields together
Featuring key note presentations from world leaders in their fields, the traditionally competing and rarely interacting fields of Organic Synthesis and Synthetic Biology were invited to share knowledge.
Setting the scene for optimal collaboration was Dr. Thomas Högberg, senior scientific advisor at LEO Pharma who presented the audience with the scope and potentials of joint venture.
Organic chemist Professor Phil Baran from the Scripps Research Institute introduced the audience to the organic synthesis mind and work, especially focusing on the case of the compound Ingenol which synthetic biologists are focusing on producing in biological systems while the synthetic chemists have found the production route non-biologically.
Prominent synthetic biologist professor Jay Keasling from U.C. Berkeley and synBERC presented his research on the engineering of microbes for chemicals and fuels.
 Jay Keasling, Thomas Högberg and Phil Baran 
NASA took synthetic biology to the stars
Dr. Lynn Rothschild - astrobiologist/synthetic biologist at NASA's Ames

Research Center and Adjunct Professor of Molecular Biology, Cell Biology and Biochemistry at Brown University – took the conference to the stars with her presentation focusing on how NASA sees synthetic biology implemented in space research , e.g. by engaging a number of iGEM teams in development of novel biomaterials and biocommunication.

Getting synbio to market
The conference was shown great interest from industry with dedicated presentations as well as participation from a number of companies, including Novozymes, Evolva, Novo Ventures, TeslaGen Biotechnology, DuPont Industrial Biosciences, Agilent Technologies, Ginkgo Bioworks, Algenuity and Amyris.
Dr. Sunil Chandran, Amyris and Jørgen Hansen, Evolva
Grand Opportunities
One of the main goals of the conference was to facilitate dialogue between scientists, industry and investors to identify unseen opportunities, potential collaborations and business opportunities. This was done in a facilitated, interactive session of structured matchmaking focusing on Grand Opportunities in:
- Medication for the future with special focus on fighting multi-drug resistant bacteria, cancer and other diseases.
- Sustainable life focusing on materials for the future, food basics and production systems.
- Reducing atmospheric CO2 focusing on CO2 conversion and replacement of fossil fuels.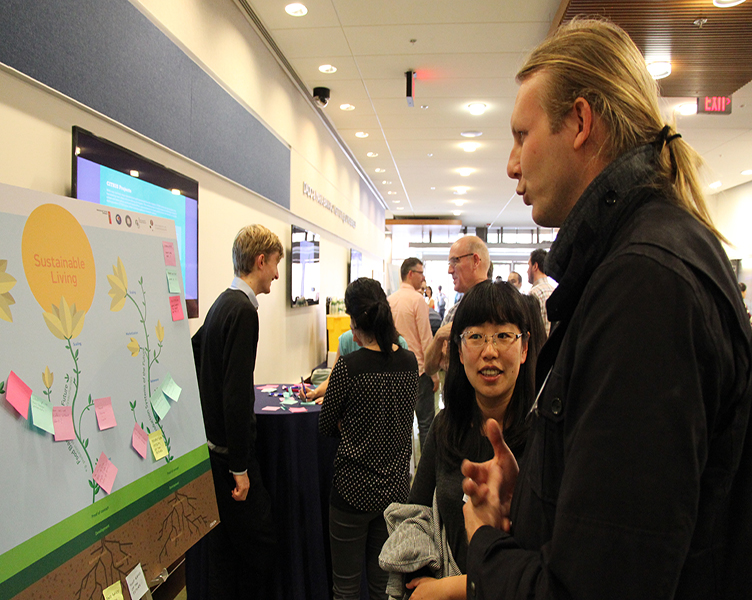 The session was facilitated by Change Management Leader and CEO Workz Ask Agger.
Collaboration is key
Reflecting on the conference, Professor Poul Erik Jensen, Head of the Plant Power project and one of the main architects behind the conference, says; "There is no doubt that together we can reach much further – and get there faster – than we can individually in each of our fields, especially when it comes to high-value compounds. And we look forward to exploring the opportunities raised at this conference."
More photos from the conference will be uploaded here soon.

The conference took place at UC Berkeley on the 10-12th November 2014.
Speakers and abstracts
Prof. Jay Keasling - U.C. Berkeley, CA 
Prof. Phil Baran - Scripps Research Institute, CA 
Dr. Lynn Rothschild - NASA's Ames Research Center, CA 
Prof. Richard Kitney - Imperial College London, GB 
Prof. Stephen Mayfield - U.C. San Diego, CA 
Dr. Sunil Chandran - Amyris, CA 
Chief Scientific Officer, Dr. Jørgen Hansen - Evolva, DK 
Dr. Thomas Högberg - LEO-Pharma, DK 
Prof. Krishna (Kris) Niyogi - U.C. Berkeley, CA 
Prof. Steve Oliver - University of Cambridge, GB 
Prof. Christoph Benning - Michigan State University, MI 
Prof. Jutta Heim - Aravis SA, CH 
Prof. Birger Lindberg Møller - University of Copenhagen, DK 
Prof. Poul Erik Jensen - University of Copenhagen, DK
Prof. Wim Vermaas - Arizona State Uni, AZ 
Assistant Prof. John Dueber - U.C. Berkeley, CA 
Assistant Prof. Ming Hammond - U.C. Berkeley, CA 
Assistant Prof. Packo Lamers - Wageningen UR, NL 
Dr. Dominique Loqué - Lawrence Berkeley National Laboratory & JBEI, CA
The conference was co-organized by UC Berkeley and University of Copenhagen via the Plant Power project in collaboration with Center for Information Technology Research in the Interest of Society (CITRIS) and the Banatao Institute@CITTRIS Berkeley and Center for Synthetic Biology at University of Copenhagen supported by funding through the Danish Council for Strategic Research, CITRIS and Innovation Center Denmark-Sillicon Valley.