29 January 2021
19.5 Mio to Crops For The Future


Professor Birger Lindberg Møller will be a key collaborator in a new Semper Ardens project focusing on Sorghum with Carlsberg Research Laboratory and University of Queensland, Australia. The Carlsberg Foundation has granted 19.5 mill kr. to the project.
Looking into a future with a changed climate, harnessing the power of plants is becoming ever more crucial. Food scarcity and loss of arable land are some of the challenges that potentially lie ahead.
Now the Carlsberg Foundation has granted 19.5 mio DKK to a new Semper Ardens project that will focus on sustainable production of future crop plants that have better nutritional value and supply higher yields.
Cross-continental collaboration
The project called "Crops for the future – Tackling the challenges of changing climates" is led by Vice President Birgitte Skadhauge at the Carlsberg Research Laboratory in an open collaboration with different world leading partners; Birger Lindberg Møller from Plant Biochemistry, PLEN, Professor Robert Henry (University of Queensland, Australia) and Dr. Lee DeHaan from The Land Institute in the US.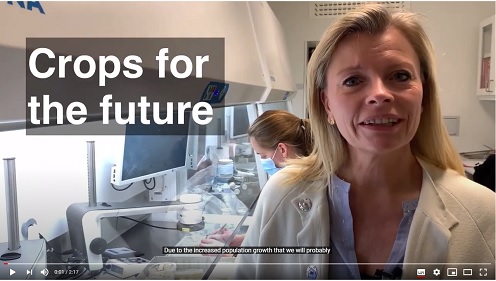 Sorghum – the ancestral genes show the way
The main focus of the project is the Sorghum crop plant which is one of the world's most important crops sustaining millions of people particularly in Africa, Central America and Asia due to its high drought and heat tolerance.
As part of the project, the scientists will study and improve the plant's basic mechanisms to counteract stress. They aim to improve the nutritional properties of its grain by identifying the specific genes and variants thereof in both domesticated sorghum lines and their wild crop relatives. 
Unprecedented genetic screens
The selected plant variants will be identified within large sorghum populations using a new highly specific screening platform making it possible to carry out the selection from plant populations of up to 500.000 individuals. This is more than 500 times the number of population sizes typically used in previous studies. No steps involved in obtaining the desired plant variants are classified as GMO. This greatly increases the value of the new cultivars developed and facilitates their direct use across country borders. 
Birger Lindberg Møller says: Our research will be guided by a new screening system developed at the Carlsberg Research Laboratory enabling us to identify and single out the individual plant within in a huge sorghum population that has a desired trait offering e.g. increased drought resistance, improved nutrient uptake and inherent disease resistance."
Sorghum has been studied for decades by Birger Lindberg Møller and his research team. He is very proud to be part of this highly focused and ambitions project that will make a difference for the future. 
He says: "We need to advance our knowledge of the processes behind plant growth and development under adverse environmental conditions. In short, as partner in the Semper Ardens funded project, we want to contribute to the development of environmentally benign and sustainable production systems of the future by sowing as well as harvesting plant plasticity.
More information from the Carlsberg Foundation: