iGEM 2012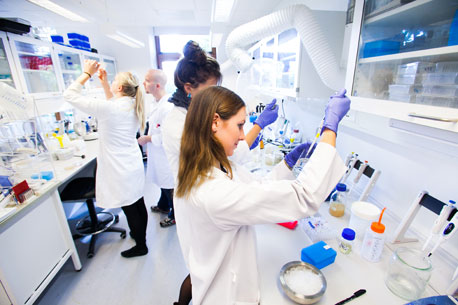 Students Behind Novel Synbio-Lightsource
On Friday 5th of October 2012, seven University of Copenhagen students traveled to Amsterdam to participate in the innovative bio-design world championship for students: The highly distinguished iGEM competition. They brought two valuable things with them to Amsterdam: Fluid bio-neon, the result of their own invention – and real life experiences gained from being researchers all through the summer.


When the European round of the iGEM competition (international Genetically Engineered Machine) happened tomorrow October 6th in Amsterdam, a group of SCIENCE-faculty students took the floor with their pockets full of big dreams and a single groundbreaking idea.
University of Copenhagen participated for the second time – and the 2012 year's group is entering the competition with with its own design: bio-neon, based on cyanobacteria. These bacteria are designed to emit light during the night, and thereby work as a sustainable light source in the dark.
Crossdisciplinary training
UNCPH's iGEM '12 team did not only include SCIENCE students. Philosophy student Lea Gregersen from the University's humanities faculty, Charlotte Krag studying design and innovation at Technical University of Denmark, and Caroline Have, student at Creative Communication at the Danish School of Media and Journalism were also involved with the the team.
"While we worked on making the bacteria glow in the dark, these guys have been responsible for developing concepts for applications, such as 'neon'-signs. They have also been important sparring partners on ethical aspects, which should always be considered when working with living biology interacting with society" says molecular biomedicine student Charlotte Navntoft, to whom iGEM has been an opportunity to early on gaining experience with the potential of the interdisciplinary collaborations that form the basis of synthetic biology and in society-oriented research generally.
Skip the Summer Break – Get Invaluable Experience as Researcher
Over the summer of 2012, she spent many hours in the laboratory at Department of Plant and Environmental Sciences to develop the glowing bacteria together with the rest of the 2012 iGEM team.
"Instead of hanging out on the beach, we have worked as 'real scientists'. We designed and planned our own experiments, which has given us a lot of experience with techniques, which the lab courses only has introduced to us in passing" says Charlotte Navntoft when commenting on the work of the team, which was been supervised by Peter Naur and Johan Andersen-Ranberg, postdoc and PhD-student respectively, both at the same department.
"We did not succeeded in everything, but to learn from your mistakes, to re-adjust and to retry are key parts of the life of a researcher. In this way, we have attained attractive compentences that will add value to our future studies" she says continues with a smile: "We have for example become world champions in performing PCRs, which is fundamental for DNA-work".